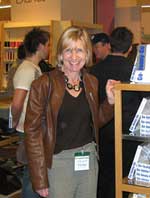 Sally Campbell
has many years' experience in career management, 1:1 coaching and group facilitation. She has worked with people of all ages and work disciplines from a broad range of sectors. These include: manufacturing, IT, retail fashion, pharmaceuticals, bioscience, airline, financial services, banking, insurance and publishing.
Her work in the career management field is supported by an earlier career in recruitment, IT support and business development and a Post Grad Diploma in Workplace Counselling.
The market-led approach she takes combines with a philosophy, underpinning all her work, that aims to de-mystify the process of identifying and securing realistic job opportunities, thus enabling people to reach their true potential.